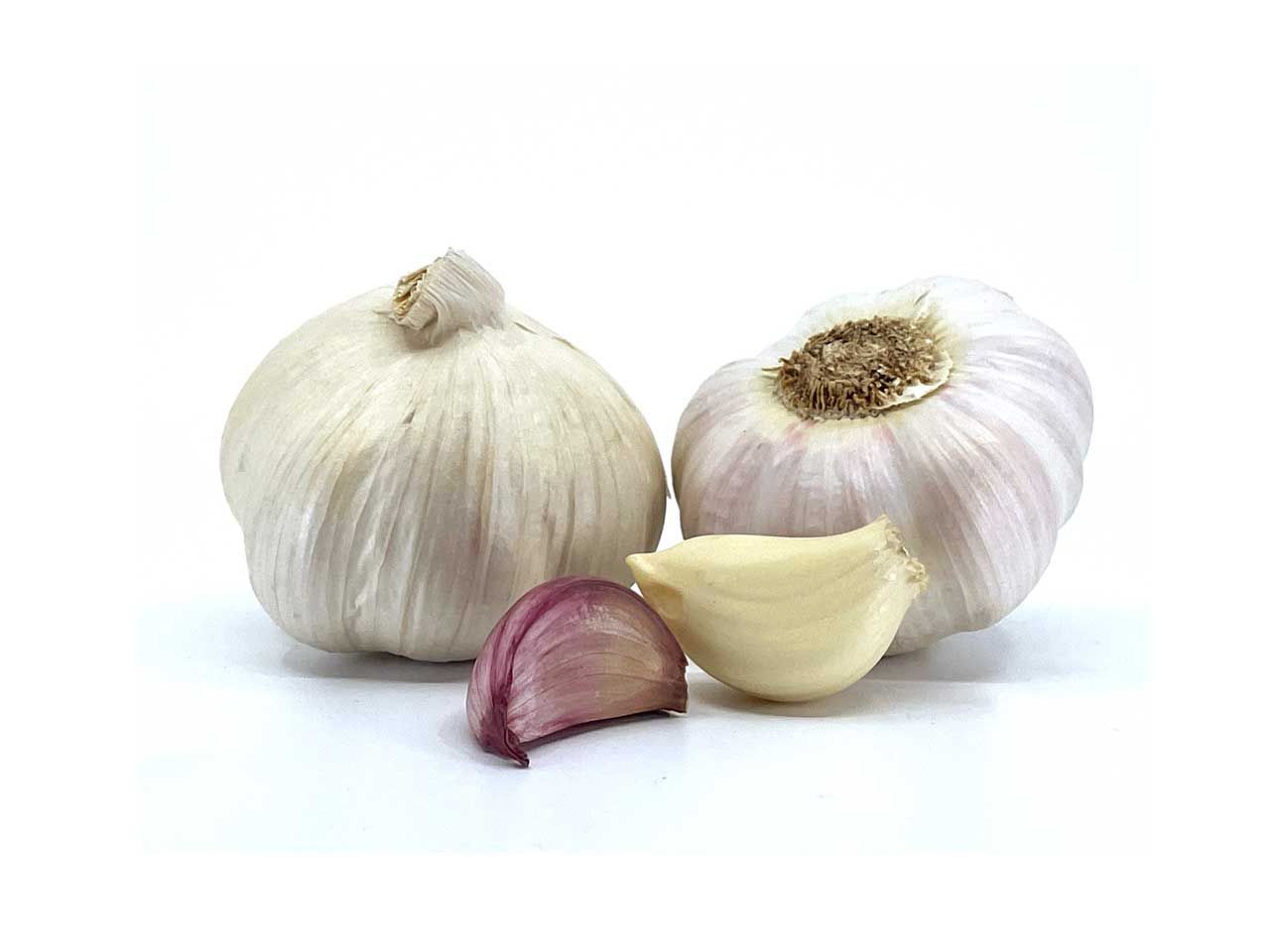 Purple garlic
They are white on the outside and with purple cloves and skin. Unlike the Spring, its sowing starts at the end of December and the harvest is ready in July.
Stored at ideal temperatures, it has a longer life, it can be kept for a whole year without loss of quality.
The size is medium, the conservation is good and its use is common. They have an intense flavour and smell, with a uniform bulb both inside and out. It has a greater amount of allicin, which together with organosulfur compounds helps to control blood pressure and cholesterol.
NATIONAL GARLIC
At first glance you can recognize national white garlic because it is the most irregular of all the others. It has a "dirty white" appearance but it has quality and it is difficult to produce. It tends to have more diseases than others. Consequently, this sowing is being abandoned a bit.
White garlic has a regular flat head, with a shiny white or yellowish white rind. They can have purple lines on their shells and their head can be medium or large and irregular in shape. It normally develops between 10 and 12 garlic cloves or bulbs.
VIOLET SPRING GARLIC
The Spring variety garlic owes its name to the time it is harvested, as it coincides with spring. It is a grateful garlic, easily adapted for cultivation and very early in its development. This type of garlic has a spicy touch on the palate, a mild aroma and is covered by a white skin with purple streaks.
Violet Spring Garlic has a hard neck and it is harvested earlier than others. It adapts easily to the cultivation. Although lifetime is shorter than the other varieties, its adaptation to cultivation is simple
WHITE SPRING GARLIC
Nowadays it is the most common garlic. It has a milder aroma and flavour than other varieties, which makes it very attractive to be widely marketed worldwide. Its conservation is good, it is an early garlic of good productivity.
It has a strong aroma; its size is large and the head usually has more cloves than other types of garlic. They are fleshier, their cloves are white and covered by a parchment-like covering of silver colour.
The taste of black garlic is much softer and sweeter than that of white garlic, it also smells much less and therefore bad breath disappears. It is easier to digest and does not repeat.
Despite its dark color, unlike the typical yellowish or white color, its texture is gelatinous and soft instead of hard. In addition, its aroma and flavor is very pleasant in the mouth.
DIFFERENT WAYS OF PACKAGING OUR GARLIC
CALIBRES

Todas las variedades de ajo que trabajamos están disponibles en todos los calibres para poder así agradar a todo tipo de consumidores y clientes.
2 kg

3 kg

5 kg

10 kg

20 kg

30

lbs

Suppliers Europool

suppliers Ifco

The number of heads in the meshes would be variable depending on what the client needs

100 gr
150 gr
200 gr
250 gr

Full trucks, which, like smaller quantity containers, would depend on customer demand.

Full trucks and groupage.

Loose Pallets